The powder coating and galvanized steel on these partitions provide you with quality and economy.
The powder coating on these partitions resists corrosion, scuffing, scratching, fading or staining. It cleans easily.
Choose from our selection of contemporary colors to complement your interior.
These partitions come with a 2- year warranty.
Click here for configurations.
---
Powder-coated Finish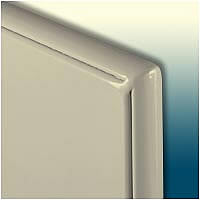 Partitions of galvanized steel with a powder coat give the best price economy of all the partition types. The powder finish on steel resists corrosion, grease, acids, caustics, mars and stains.
These partitions come with a 3-year manufacturer's warranty.
Powder-coated Partition Color Selection Guide
Choose from these colors: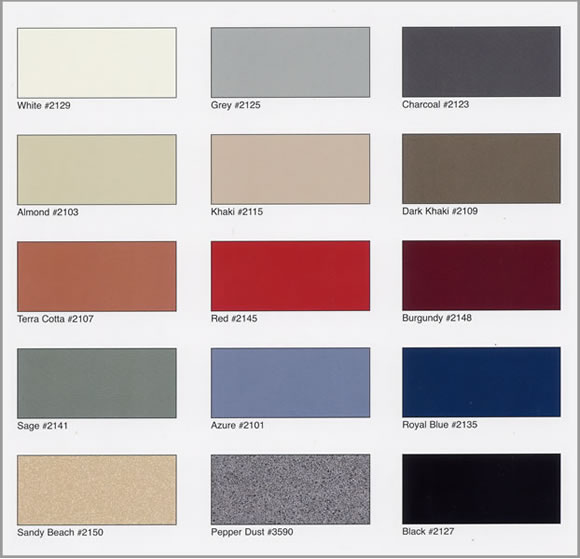 Construction Features
Stainless steel partitions come with the features illustrated below.

Honeycomb Core
Constructed of cellular honeycomb, this core provides strength.

Welded Corners
The corners and the pilasters, panels and doors are welded to each other and to the adjacent face

Theft-resistant Fasteners
Fasteners installed with a special driver make them easy to install and difficult to remove.

Concealed Latch
This latch allows emergency access and has an ADA handle.

Bottom Door Hinge
This gravity positioning hinge provides durable, maintenance-free safe support.

Upper Door Bracket
This bracket contains a pin that goes through the door and bracket for three-point bearing.

Pilaster Mounting
All floor-anchored overhead-braced pilasters contain floor-mounted jack leveling.

Alternate Pilaster Mounting
All ceiling-hung and floor-anchored pilasters come with this heavy gauge mounting.

Shoe Construction
Made of one-piece type-304 stainless steel, shoes are top and bottom hemmed for rigidity and sleekness.
Choose from these options:
Plywood core
No sight line
Stainless steel stirrup brackets
Full height aluminum brackets
Full height stainless steel brackets
European and eastern style heights
Call for a FREE quote 1-800-663-9515