Want affordable partitions and fine design? Plastic laminate partitions combine these features.
Bonded under pressure to a particle board core, these laminate finishes meet or exceed all NEMA standards.
The manufacturer bands the edges of all the components before laminating them giving you maximum water runoff and durability.
Choose from a variety of colors and installation types.
Click here for configurations.
---
Plastic Laminate Finish
Partitions constructed of plastic laminate are one of the most cost effective types of partitions.
High pressure laminates provide a smooth surface with scratch resistance.
These partitions come with a 2-year manufacturer's warranty.
Plastic Laminate Color Selection Guide
Choose from these colors for plastic laminate partitions: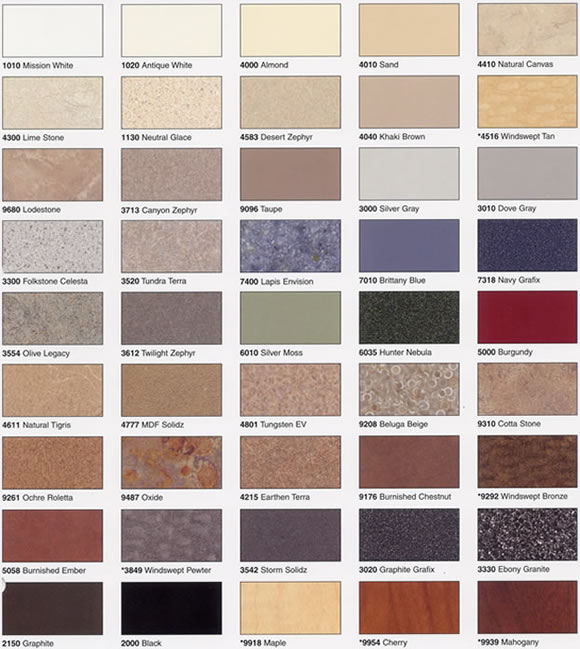 ---
Construction Features
Plastic laminate partitions come with the features illustrated below.
Door Hinges
This latch allows emergency access and has an ADA handle.


Shoe Construction
Made of one-piece type-304 stainless steel, shoes are top and bottom hemmed for rigidity and sleekness.

Core
The particle board core consists of # 45 density to resist warping and guarantee smoothness.

Edge Construction
To ensure water runoff, the face laminate overlaps the edge laminate. The manufacturer hand files the edges.

Theft-resistant Fasteners
Fasteners installed with a special driver make them easy to install and difficult to remove.
Choose from these optional features:
Plywood core
Steel core pilasters
Full height piano hinges
Full height aluminum brackets
Full height stainless steel brackets
European and eastern style heights
Call for a FREE quote 1-800-663-9515