Phenolic materials provide superior strength, durability and moisture resistance.
Choose either black-core partitions where color remains on the surface or color-thru phenolic partitions where the color permeates the partition.
Use phenolic partitions where vandalism is a problem. All phenolic partitions come with a 10- year warranty.
Click here for configurations.
Phenolic Finishes
Black-core finishes provide superior moisture resistance in showers, pools, saunas, or places where partitions are hosed down frequently.
Color-thru finishes permeate the entire partition providing impact, scratch and graffiti resistance.
These partitions come with a 10-year manufacturer's warranty.

Phenolic Color Selection Guide
Choose from these colors: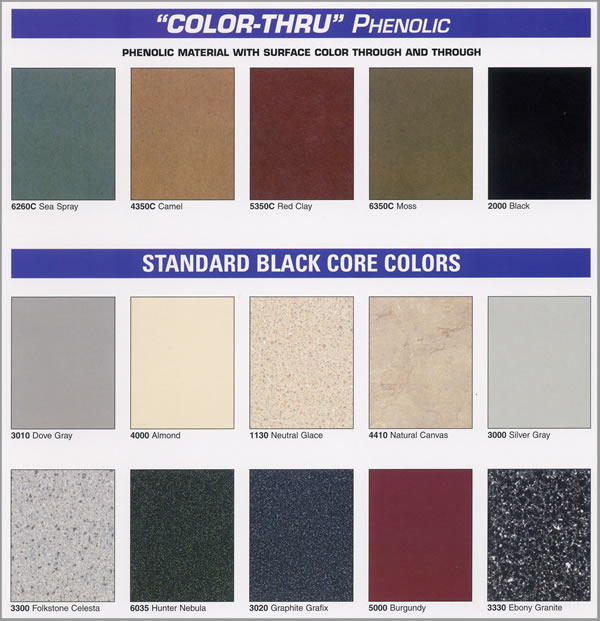 Vault-Type Hinge
These hinges wrap. Use these strong hinges for heavy-duty installations.

Emergency Access
The access meets ADA requirements. It contains a slotted keeper and gravity hinges.

Theft-resistant Fasteners
Fasteners installed with a special driver make them easy to install and difficult to remove.

Stainless Steel Shoes
Made of one-piece type 304 stainless steel, shoes are top and bottom hemmed with a #4 satin finish.
Choose from these optional features:
No sight
Full height piano hinges
Class "A" fire rated material
Full height stainless steel brackets
European and eastern style heights
Call for a FREE quote 1-800-663-9515